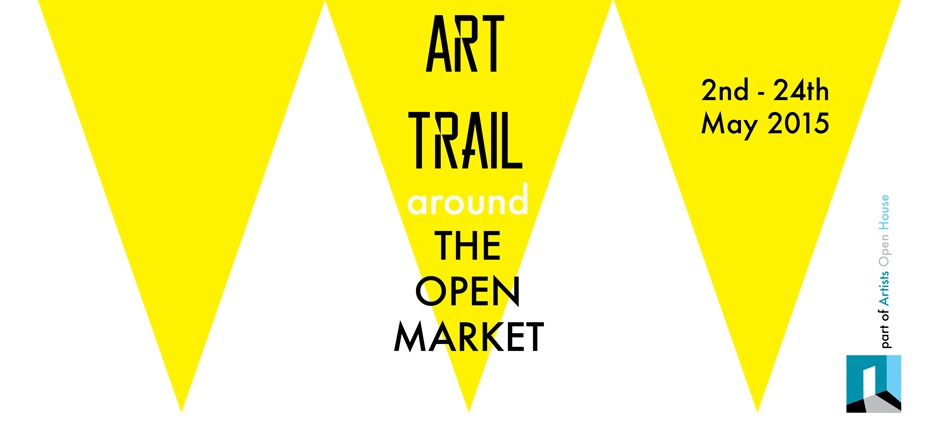 This May, the community of artists in residence at the Open Market are launching with 'Art Trail around The Open Market' as part in Artist Open Houses. AOH is a city-wide initiative that allows the public a unique opportunity to peak behind the scenes and see local artists at work, either in their homes or at the workshops.
Stunning artwork and classes available, plus a new events programme of art activities, film nights and talks powered by Pecha Kucha. Follow us on twitter to find out more: @artopenmarket #artopenmarket
Look for the yellow bunting that marks the Artist Trail which runs from 2nd May – 24th May 2015. Check out units on the ground floor and upstairs to the studios and workshops on the first floor balcony level.
From the London Road Entrance:
A: The Specky Wren
1-2 Marshall's Row (nearest London Road Entrance)
Supporting local artists and creative minds is hugely important to us at The Specky Wren. We have year round art displays nestled in the shop alongside our glasses and a 6ft dragon fly carving perched outside above our doorway. For May's Artist Open House festival we have a myriad of art on show from a variety of local artists. The Specky Wren and Open Market will be a hive of creative energy. @speckywren #spectacleofart
B: Studio 45  
Unit 45 (opposite the Specky Wren)
Studio 45 will be exhibiting over 40 local artists, both established and new, contemporary and traditional. We will have a wide variety of work including ceramics, stone, wood and metal sculpture, jewellery, original paintings and prints. Throughout the Artist Open House period we will have regular spraying stenciling demonstrations outside the gallery. The artists will be using a sugar based paint so children and adults will be more than welcome to have a go and join in the fun.
www.studio45bn1.com
C: Unit 5: The Flying Saucer
Unit 5, Ground Floor in the Open Market
The Flying Saucer will again be proudly illuminating 'Partially Obscured's' sumptuous, contemporary 'L ghtBOX' collection. This year, accompanied by the equally mesmerising and sometimes provocative work of Neon artist Darren West (pictured). Moving images will be projected onto a new 'micro cinema' on the wall outside the cafe.www.theflyingsaucer.com
Upstairs on the first floor balcony:
D: The Artpothecary
Studio 1, First Floor Balcony (near lift)
The Artpothecary is an independent art shop dispensing creative materials to artists and makers. We provide a set of services that combine the traditional with the innovative. As practising artists, we understand process, materials and the need for a friendly chat when you're in search of ideas or advice. We also understand that making art can be expensive – that's why we always strive to keep our prices affordable: www.Artpothecary.co.uk
E: Open Arts Gallery
Studio 2, First Floor Balcony (near lift)
Open Arts is an arts studio where we run weekly visual and performing arts courses and a Sunday pop-up gallery shop. The project is a unique collaboration between Autism Sussex, Grace Eyre and Impetus, designed to bring arts opportunities to people with Asperger's / Autism or learning disabilities. Every Saturday in May we will also have stall downstairs at the market, selling beautiful artwork and other produce made by Autism Sussex service users. For more info on our arts workshops + to book: www.openartsbrighton.com
F: Studio Woody
Studio 3, First Floor Balcony (near lift)
Artist + Illustrator Zara Wood, also known as Woody, will be opening her studio as a gallery shop during the first four weekends of May. Expect to see art posters, limited edition screen prints, ethical fashion and design-led stationery made in england. This May she also launches a colouring in group for adults called 'Colour in Monday' with supersized designs we can all colour together! And on 7th May, in partnership with Viva Brighton, Woody will co-host 'Talent Pool' – a series of quickfire talks from ten of Brighton's top creatives. For more info check out: www.zarawood.com
G: LOVE THE ROCK TATTOO STUDIO hosts Wild Aesthetic Photography
Studio 4, First Floor Balcony
Wild Aesthetic will be showing portraits created using the Wet Plate Collodion process – a process that dates from 1851 and is commonly known as 'tintypes'. This hand crafted process requires patience and stillness from the sitter. The result of these different elements combine to make portraits that are often remarkable and physical. We will also be 'popping up' with our portable darkroom at Love the Rock's Studio on the 8th and 9th of May. To book a portrait session please visit our Facebook page – search Wild Aesthetic.
H: ALISON McGECHIE
Studio 5, First Floor Balcony
An eclectic mix of 3D work inspired by the human form and hand-crafted in natural materials. Stone, wood, metal and ceramic sculpture; original pastel life-drawings; and hand-built ceramic vessels for home and garden. All work on show is for sale and private commissions are welcomed. See events diary for weekend demonstrations and week day workshops. For more info: www.alisonmcgechie.com For bookings email: alisonmcgechie@gmail.com
I: PARTIALLY OBSCURED
Studio 7, Upstairs – First Floor Balcony
Partially Obscured is run by Su Wilson a Glass Designer, Fabricator and Instructor with 20 years experience. From her workshop, Su produces her creations and teaches Glass Fusing and Slumping Courses. For AOH Su will be showcasing a new range of exquisite, fun and colourful glassworks. For more info + to book courses: www.partiallyobscured.co.uk
J: Pear Shaped Apparel
Studio 9, First Floor Balcony
Hi we're Pear Shaped Apparel – Brighton's longest running Streetwear brand and we double up as a graphic design agency: www.thepsastore.com For AOH we're creating a limited edition range of screenprints which are takes on our best selling garments over the years, including our infamous Stamp Collection which made national press on the Queens Jubilee. We'll also be showcasing live street art in the market so be sure not to miss us! Follow us for info: @pearshapeduk
K: SEW FABULOUS
Studio 10, First Floor Balcony
Come to our sewing and textiles studio for Saturday workshops throughout the Artists Open House Festival. Take a look at our website www.sew-fabulous.org or email sewfabhq@gmail.com for more information and to book. Throughout the festival we are proudly exhibiting a weekend showcase of our students' work that has been created in the studio.
L: Oh! Studio
Studio 12, First Floor Balcony
Oh! Studio illustrate each of their designs by hand at their open market studio in Brighton. Now a collective of illustrators they are staging an exhibition of contemporary illustration inspired by Brighton. There are prints, objects and cards for sale by Oliver Hydes, Lizzie Bass and Rob Wills.
From The Level Entrance on Ditchling Road:
M: Eco Makers Emporium
Unit 25, Ditchling Road
Eco Makers Emporium is a tantalizing trove of eco chic treasures, unique handmade and upcycled clothing made by Darryl Black. Plus, vintage assemblage jewellery by Missy T Rocks and Maria Tilyard's 50's print menagerie of strangely alluring animals. In May we are excited to be exhibiting pieces by visionary artists Clive Hedger, Penny Oakley , Mark Golding and Yvonne McGillivray.Upcycling Courses also available on Mondays and Sundays in May. Book through events page on www.darrylblack.com or call 07971 608 138 for further info. Early Bird prices available if booked in April.
Part of Artists Open House #artopenmarket